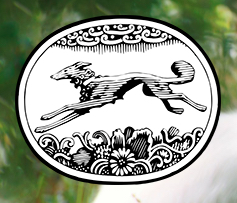 We are getting close to the end of National Poetry Month and I thought I'd do a little check in and tell you where my poetry reading has taken me.
While I haven't been to any of the local poetry events I had mentioned in my earlier poetry post this month, I'm still hopeful of going to Malvern Books before the end of the month. All of their poetry books are at 20% off and they have a fabulous selection. I have however been paying attention to my inbox for the poem-a-day from the Borzoi Reader. This has been a good year – I've been printing several of the poems and will be adding them to my poetry journal.
In case you've missed these daily gems, you can see them all here. Some of my favorites have been "In The Same Space" by C.P. Cafavy, "God Breaks the Heart Again and Again Until It Stays Open" by Sandra Cisneros, "Nurse's Song" by William Blake and "Reminder" by Marie Ponsot.
I have finished an Everyman's Library Poems collection by Langston Hughes and absolutely loved it. Some of the poems I felt like were songs and could easily imagine them being interpreted in dance or musical form. And, some of the poems made me sad and angry at the injustices. If you've not read anything by Hughes I highly encourage you to pick up one of his books.
Here's some critical analysis that I found on Poets.org: During the twenties when most American poets were turning inward, writing obscure and esoteric poetry to an ever decreasing audience of readers, Hughes was turning outward, using language and themes, attitudes and ideas familiar to anyone who had the ability simply to read . . . Until the time of his death, he spread his message humorously—though always seriously—to audiences throughout the country, having read his poetry to more people (possibly) than any other American poet."
So what poems have you discovered? Or have you gone back to read some favorites during this month?