I hope you all enjoyed a wonderful weekend. Mine was great but of course not long enough. I got to do some biking, bookbinding, reading and got to see a wonderful demonstration on glass blowing at Wimberley Glassworks. Oh and there was quite a bit of book shopping done as well but I'll tell you about that another day because tonight I want to mention some of my thoughts on Bad Blood by Lorna Sage which the Slaves of Golconda are discussing.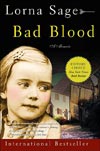 This memoir is a look at Lorna Sage's lfie growing up in the small town of Hanmer, on the border between Wales and Shropshire. When I first started reading the book I got the impression that Lorna's grandmother was a bitter woman but quickly I understand why she behaves the way she does.
Lorna's grandfather, the vicar of the small village, is a womanizer and a drinker, who I thought seemed to cast himself in the role of victim but perhaps that was his excuse for his behavior. As Lorna's grandmother finds out about his ways she begins to make his life difficult by blackmailing him and basically the whole family gets a front row seat to the fights.
Meanwhile Lorna thinks her parents also aren't that suited for married life. Her father is a workaholic and her mother is a terrible housekeeper. The one thing she dreads most is what to cook for her family which ends up in her serving unappetizing meals and wishfully thinking of a meal that could be served in a pill form.
As Lorna grows older she finds it hard to navigate relationships with boys and even girls. It seems she's most comfortable with her books and and getting in to trouble no doubt, as her grandmother says, it's the bad blood she inherited from her grandfather.
Despite this being a memoir of Lorna's growing up I had a bit of a hard time getting to really know her. I felt I was more in tune with her grandmother, perhaps because I just felt like she never had a chance with that husband of hers.
I'm looking forward to sharing more thoughts on this with the Slaves of Golconda. If you think this sounds interesting pop on over at the forum to read more and feel free to join us!