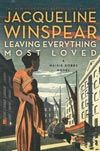 "Whether it was for advice that she had made the journey from London, or to have someone she respected bear witness to a confession of inner torment, she wasn't sure. Might she return to her motor car less encumbered, or with a greater burden? Maisie suspected she might find herself somewhere in the middle – the lighter of step for having shared her concerns, but with a task adding weight to the thoughts she carried. She took a deep breath, and sighed."
Leaving Everything Most Loved by Jacqueline Winspear
In this latest entry in the Maisie Dobbs series, Maisie is at a crossroads. She has a successful business, she's in a loving relationship and yet she feels like there is something missing. She feels like she needs to follow in the footsteps of her mentor Maurice Blanche and explore the world and ultimately find herself but before she can begin her sojourn a new case needs her attention.
Usha Pramal, an Indian woman, was found dead in a canal and her brother has arrived in London to find out what happened. As it turns out, there has been very little investigation and so he seeks Maisie's help. Maisie learns that Usha was a special woman. She was intelligent, she had dreams and most of all there was something about her that made people take notice of her. But why was she turned out on the street from her British employers?
Maisie's investigation has her meeting missionaries, discovering a new culture and confronting stereotypes but before too long another Indian woman is murdered and Maisie must find the truth fast. To complicate matters, Maisie is beginning to doubt her assistant, Billy, is fit to be back at work, and she is faced with making a major life decision.
I've mentioned before how much I enjoy the Maisie Dobbs series and sometimes I think it's not so much the mystery that draws me in but the time and place. This time though I really did enjoy the whodunit aspects much more and as usual I find Maisie a character I really like because of her independent-streak and intelligence. I also like that she seems to realize that she can't fix everything for everyone although that still doesn't stop her from trying.
My only nitpick is her relationship with James. I've not been a supporter of the relationship because although James has been in several of the books (maybe all but I can't recall) I still feel like he's not as interesting a character as some of the other men who Maisie has met. This series is not one for cliffhangers but with Maisie embarking on new adventures I'm excited for her and can't wait to see how her life will change and which characters we will meet next because I think this book certainly opens the door to a shift in the series.
Source: Library copy