Have you had a chance to read a book by award-winning novelist Laura Lippman? I have not and am planning to remedy that very soon. She has written the popular Tess Monaghan series which is set in Baltimore as well as some stand alone books.
So if you are new or already a fan here's your chance to win some of Laura's books. I've got two copies of The Girl in the Green Raincoat and one copy of I'd Know You Anywhere.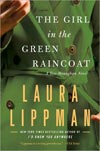 The Girl in the Green Raincoat is the 11th book in her Tess Monaghan series. Previously serialized in the New York Times, and now published in book form for the very first time, The Girl in the Green Raincoat is a masterful Hitchcockian thriller.
The story starts when Tess is ordered to complete bed rest and as she grows bored while watching life go by outside her window she starts to pay attention to the little things.  One day a dog without it's owner or dogwalker, makes her wonder what happened and before you know it she's putting her investigative skills to use.

I'd Know You Anywhere is just now out in paperback and get this, the book is a finalist for the Los Angeles Times Book Award and the 2011 Edgar Award for Best Novel.
"There was your photo, in a magazine. Of course, you are older now. Still, I'd know you anywhere."
Suburban wife and mother Eliza Benedict's peaceful world falls off its axis when a letter arrives from Walter Bowman. In the summer of 1985, when Eliza was fifteen, she was kidnapped by this man and held hostage for almost six weeks. Now he's on death row in Virginia for the rape and murder of his final victim, and Eliza wants nothing to do with him. Walter, however, is unpredictable when ignored—as Eliza knows only too well—and to shelter her children from the nightmare of her past, she'll see him one last time.
Don't these books sound great? So if you would like to enter the giveaway just leave me a comment and let me know which book you'd like. I'll announce the winner on Monday, May 23. Good luck!
P.S. While I'd love to have all my readers participate in the giveaway, winners must be US and Canadian-based readers.