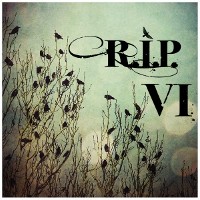 The R.I.P. Challenge is well underway and I am just now getting my act together but that's ok right? I have stayed away from challenges this year, aside from the Once Upon A Time Challenge, and I knew I wouldn't be able to resist joining this one as well.
As time is tight I'll have to go with Peril the Third which involves reading one book that fits the R.I.P. definition.
I'm currently reading a mystery but I really want to try and fit in something a bit more atmospheric and ghostly/scary for my read. So I think I'm going to try and read Don't Look Now by Daphne du Maurier. It's been a while since I've read a collection of short stories too.
Here's a tidbit from the introduction to this collection:
"In the stories du Maurier was not at all wedded to a happy outcome, and employed a sophisticated range of narrative techniques designed to sustain tension and deliver shocking endings. She was also tantalizingly inconclusive at times, demanding of her readers that we devise for ourselves explanations for the uncanny events she describes. Her imaginationis liberated in the short story, where brilliant flashes of originality, pessimism, and even perversity are to be glimpsed."
Sounds wonderful doesn't it? I've read a couple of du Maurier's novels but none of her short stories so I'm excited. Let me know if you've read this one and what you thought.