I got a bit distracted from reading one of my books because as I was organizing my desk I found the copy of BookPage I had picked up on a recent visit to BookPeople. I love that they have it available there. Not only am I enjoying the reviews but I am also glad I found it because I had jotted down two books which sounded interesting, and I wanted to remember to add them to my wishlist.
The two books are: The Dark Holds No Terrors by Shashi Deshpande, which sounds very moving and Salvage by Jane F. Kotapish. Has anyone read these?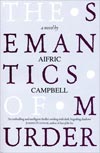 Anyway, I finally did start a new book and as I was still thinking of mysteries I went with The Semantics of Murder by Afric Campbell. I am still at the beginning and so far I can't say that this sounds like a mystery but I like what I'm reading and I can't wait to see what happens.
The main character is a psychologist who will begin to use his patients' stories for his own fiction writing. Oh doctor, that's not a good thing.
I hope you all have a wonderful weekend. I'm hoping to get a bit of reading done and of course I'll try to drop in at the bookstore for more browsing and maybe a treat for me.  More bookish talk soon.