You know, I typically have a couple of books going on but lately it's just one and for some reason it's going very slowly. I guess I've just been a bit overwhelmed with some other things.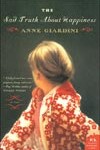 What book am I reading? The Sad Truth About Happiness by Anne Giardini. I love how this book started. It's about a young woman who seems to have everything going on right in her life until she takes a magazine quiz and it predicts that she'll die quite soon. In order to change the outcome she has to find happiness. Oh so easy, right?
So the beginning of the novel was promising but somewhere in the middle there's a big event that causes me to want to shake my head at the main character. What was she thinking? And, why this turn of events? I am getting very close to the end, may even finish it tonight, so I don't think the book will get back to its initial premise which for me was how one person goes about finding happiness, exploring what happiness means and all that.
Not a bad read but hasn't lived up to my expectations so far. Although maybe I should hold off until the end to make a definite decision. If you've read this, what did you think?
Anyway, I'm already wondering what to read next. I don't know if I'm in the mood for a mystery or another women's fiction type novel. Hmm, maybe I should catch up on some of my reading challenges. Oh goodness, if you've got a great read to recommend let me know. I seem to be in one of those rare moments where I can't seem to figure out which book next!