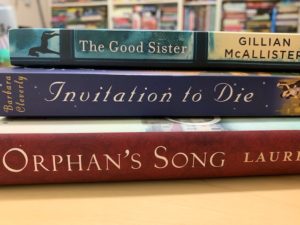 I hope you all had a wonderful weekend. Did some of you in the States get a lot of rain? We got quite the soaking Sunday night and I think we also managed to already hit 100 degrees. I don't mind the rain but that heat. Bring on the popsicles!
Anyway so sorry for being the absent blogger again friends but between feeling tired from the heat and just some crazy work stuff, I haven't felt much like blogging or crafting even. I think right now, what's on my mind is vacation and that's all I'm focusing on but there are some great things going on so I need to remember to pay attention to those joyful moments as well.
One of those being new books. So glad books can always brighten my day. Here are the latest books to arrive on my doorstep:
The Good Sister by Gillian McAllister. Martha and Becky Blackwater are more than sisters–they're each other's lifelines. When Martha finds herself struggling to balance early motherhood and her growing business, Becky steps in to babysit her niece, Layla, without a second thought, bringing the two women closer than ever. But then the unthinkable happens, and Becky is charged with murder.
Invitation to Die by Barbara Cleverly. Cambridge, 1924 in early summertime. May Balls, punting on the Cam, flirting and dancing the tango are the preoccupations of bright young people, but bright young Detective Inspector John Redfyre finds himself mired in multiple murders.
The Orphan's Song by Lauren Kate. Venice, 1736. When fate brings Violetta and Mino together on the roof of the Hospital of the Incurables, they form a connection that will change their lives forever. Both are orphans at the Incurables, dreaming of escape. But when the resident Maestro notices Violetta's voice, she is selected for the Incurables' world famous coro, and must sign an oath never to sing beyond its church doors.
All of these sound like good fun to me. Which would you start with?