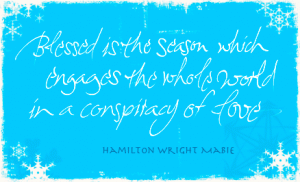 Just wanted to stop in really quick and send everyone some love for the holidays! Things are still a bit of a madhouse at Casa Bookgirl (still no internet!) but the good news is that most of my books are on the shelves now. Yay. I promise a picture of the five Ikea Billy bookshelves is coming soon.
I really have missed blogging and visiting you guys a lot. I am hoping to stop by and visit soon. Also I can't believe I still haven't posted anything yet on my favorite books of the year. Ah, but you know I tend to wait until the last minute possible to post my list because you never know if that great book is still just waiting to be read.
Anyway, as always thank you for stopping in even when the postings have been so iffy lately. Now I'm off to get a cup of coffee and enjoy a bit of my current read, The Cruelest Month by Louise Penny. So great to be back visiting with Inspector Gamache.
Wishing you a lot of joy this holiday season!