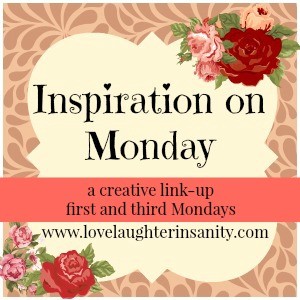 I hope you all had a great weekend! We had tons of rain so not wanting to be out and about, I did a bit of stuff around the house and I took naps. Yay, for naps.
While I didn't do any crafty stuff this weekend, not unless you count clearing off one my craft tables, I wanted to go ahead and show you some journal pages in progress.
I figured this would be a great post for Trish's Inspiration On Monday link-up.
So here is a look at a journal spread in progress.
One of the first things I usually do is put some gesso on the pages. Not only will this give you a nice white canvas but I finally learned that it is allows your paint to not soak into your pages right away.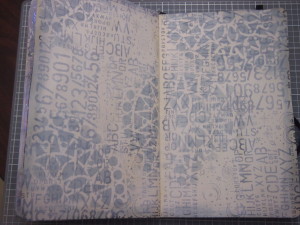 In this case I used a very light coat of gesso.
Next I used two stamps, basic backgrounds, from the Dylusions line, a stencil and a Distress ink pad in Weathered Wood.
So now I've covered all pages but then what? I decided I wanted to use some paint but not all over the pages so I used some tape to tape off sections I wanted to keep without paint and then I grabbed a couple of Americana paints and started spreading paint around with baby wipes. Americana paints are great and I don't notice a lot of odor with them as some other of the craft acrylic paints so these are usually my favorites.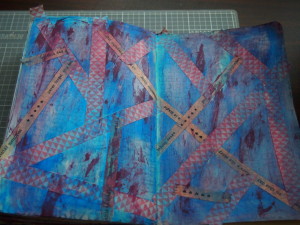 But back to the pages… You are probably thinking that tape doesn't match but it was just to keep some areas free of paint. I used washi tape as that doesn't stick very well and you can easily lift it up without damaging the paper.
Sorry about the lighting. I'm looking at my journal right now and that blue is not as bright. Anyway, once I was done with the painting part, and that was all dry, I pulled off the tape and the white areas where for my journaling. I liked that I can still see some of the original background peeking through. Even through the paint as I sheered that out quite a bit.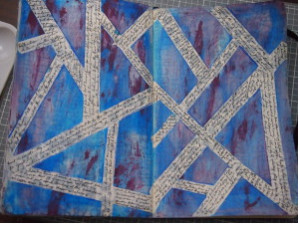 I typically don't write too much in my art journals but this was a page about me thinking of what to do next. So I think the "pathways" these lines form express that.
For the writing, I used a black Micron pen in point 20mm. I wrote in all directions. Not really caring if I could read what I wrote or not.
This isn't finished yet. I actually have added a bit more to it but I'm still not sure if it's quite done. So I've been thinking on this for a couple of weeks and who knows maybe I'll leave it as is. If it changes a lot I'll come back and give you an update post.
Anyway, hope you enjoyed that. Would love to hear what you've been creating lately!