I hope everyone had a great weekend. I got to do a bit of reading and finished my book for my book group meeting this Tuesday. Yay. I'm not sure what to think of the book as parts of it were great and others didn't seem to fit with the overall tone. Anyway, I'll tell you more about that later.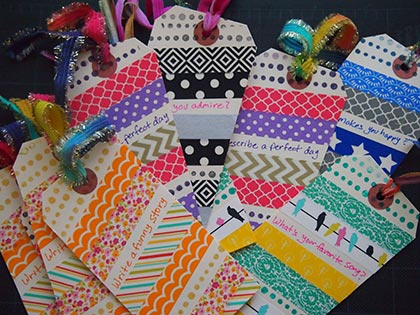 Last night though I couldn't settle down with a book so whenever that happens it probably means I need to create a bit. So I took some tags and my many rolls of washi tape and I made some journal tags.
I used a lot of washi tape, rubber stamps, my favorite Stabilo pens and colorful yarns. The tags have journal prompts and usually I send these with my journals.
They were fun to make and super fast so I think I'll probably make those again another time. I love to make tags as they are a great way to try new mixed media techniques.
Now, I am thinking about starting a new book before going to bed. I don't really need to start any new books and I have some good ones going on but I feel like the mystery I just finished didn't live up to my expectations so I'm in the mood to visit with some favorite characters. DCI Banks, Inspector Lynley, oh so many good ones I don't know who to choose. I'll keep you posted.