I missed out on Dolce Bellezza's Japanese Literature Challenge last year but I wanted to try it this year. So here I am jumping in right as the challenge is about to start.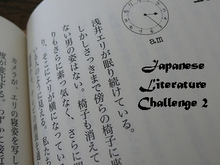 I remember a few years ago one of my book groups seemed to be on a big Japanese literature kick and we read books by Haruki Murakami, Kenzaburo Oe, Junichiro Tanizaki and several others. It was fascinating to read about Japan so I'm looking forward to revisiting this country via its authors again.
Starting July 30, 2008 through January 30, 2009 the goal is to read three books (any genre). I haven't come up with my final list yet but these are some books that I'm contemplating (and are books from my stacks):
I also have books by Haruki Murakami and Banana Yoshimoto on other challenges so who knows maybe I end up combining some challenge books. Anyway I think this will be great fun!