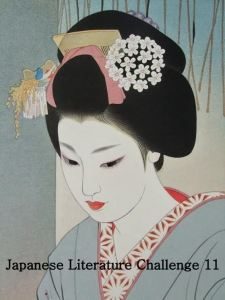 Have you heard that the Japanese Literature Challenge is back? Dolce Bellezza is once again hosting the challenge which runs through January 2018. This is an easy one, you only have a one book commitment, but of course the more you read the better! I've enjoyed participating in this challenge for several years now so I'm excited to join in once again.
Of course when we talk about challenges one of the fun things to do is look through the shelves and set aside potential reads. I have quite a few books I can choose from and also a couple of others on my Kindle. Here are some of my selections:
The Nakano Thrift Shop by Hiromi Kawakami. Objects for sale at the Nakano Thrift Shop appear as commonplace as the staff and customers that handle them. But like those same customers and staff, they hold many secrets.
A Wild Sheep Chase by Haruki Murakami. a wonderful combination of fantasy, mythology, mystery, comedy, and drama that leads the reader through the journey of one man's quest for his own identity, as well as for a very special sheep.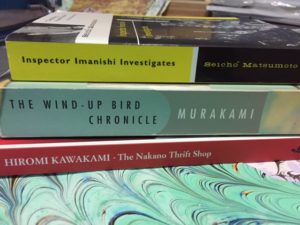 Inspector Imanishi Investigates by Seicho Matsumoto. The corpse of an unknown provincial is discovered under the rails of a train in a Tokyo station, and Detective Imanishi is assigned to the case. Writer Matsumoto is one of Japan's leading mystery writers.
The Silent Dead by Tetsuya Honda. When a body wrapped in a blue plastic tarp and tied up with twine is discovered near the bushes near a quiet suburban Tokyo neighborhood, Lt. Reiko Himekawa and her squad take the case.
These were just some of the titles that I quickly grabbed off of my shelves but I'm pretty sure there are many others that would be perfect for this challenge. Are you joining and what do you plan to read?
Let me know if you've already read some of these and what you thought!