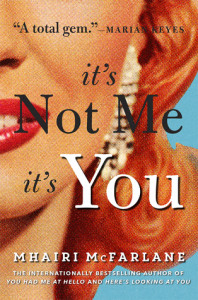 "Nothing between nine and five mattered today, anyway. Today was all about this evening: when life was going to take one of those small turns, a change of direction that led onto a wide, new road."
It's Not me It's You
By Mhairi McFarlane
Delia leads a pretty comfortable life but she's ready to shake things up by proposing to her long term boyfriend. Dressed in one of her special vintage outfits she meets Paul for dinner and proposes. It's obvious he was not expecting the proposal but she figures he's in shock and that's why he's not reacting as she hoped but they can still have a lovely evening.
Paul heads to the bar for their drinks to celebrate and meanwhile Delia waits and dreams about what type of wedding they'll have. She's blissfully happy until she gets a text with the message "C. Something's happened with D and I don't want you to hear it from anyone else. She's proposed. Don't know what to do. Meet tomorrow? PXx." Clearly Delia wasn't the intended recipient and Delia is wondering what has just happened.
When she confronts Paul she learns that he's been having an affair and her world comes crashing. Feeling betrayed and hurt Delia decides she needs a break from her current life to figure out what to do. She moves to London with her best friend and between a new job, a shady boss, and new beginnings she learns that she can start over. Sure it would be easy to go back to Paul who keeps asking her to forgive him and she's tempted but maybe she was due a change of pace. Maybe she can meet a great guy, make new friends and still do something exciting with her life.
For those of you who enjoy romance but no simpering females give this a try. Delia is smart but also human. She's hurt, she's confused but she knows that it's not the end of the world even if it sort of feels like it at times. This book had humor, likeable characters (with a few exceptions of course), and was an overall feel good romantic comedy. I really enjoyed this and look forward to reading more by this author.
Source: Personal Copy