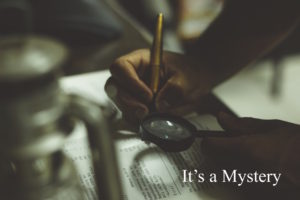 You know I'm always looking forward to the next great mystery and my book group has some interesting selections coming up in the next few months. We are going to be reading books by Julia Heaberlin, Andrew Gross and Anthony Horowitz. Unfortunately I'll miss the August selection as I'll be out on vacation but lots to look forward to in the Fall.
As usual, I've been taking note of some mysteries that I've heard about and here are some that have caught my eye:
I'm Thinking of Ending Things by Iain Reid. A horrible crime, twisted, and unstoppable action are just some of the key words when discussing this book. I actually don't know much about it but I'm just intrigued by the title and reviews.
Six Four by Hideo Yokoyama. For five days, the parents of a seven-year-old Japanese schoolgirl sat and listened to the demands of their daughter's kidnapper. They would never learn his identity. And they would never see their daughter alive again. This one has won international awards and is a bestseller. I'm hooked already.
The Boy In the Earth by Fuminori Nakamura. As an unnamed Tokyo taxi driver works a night shift, picking up fares that offer him glimpses into the lives of ordinary people, he can't escape his own nihilistic thoughts. Almost without meaning to, he puts himself in harm's way. I've read another book by Nakamura and found it depressing but at the same time I couldn't look away. Not sure how high this is on my radar but still I'm curious.
Dismember by Joyce Carol Oates. Stories of mystery and suspense that probe the mind's darkest corners. I've not read anything by Oates in such a long time so this one is definitely on my list.
The Marsh Kings' Daughter by Karen Dionne. At last, Helena Pelletier has the life she deserves. A loving husband, two beautiful daughters, a business that fills her days. Then she catches an emergency news announcement and realizes she was a fool to think she could ever leave her worst days behind her. This one is billed an engrossing read of psychological suspense.
And, if these aren't enough check out this list of the 5 Most Underappreciated Crime Writers. I haven't read any of these have you? Let me know if you've read any of the books above or if you've got a great mystery to recommend.