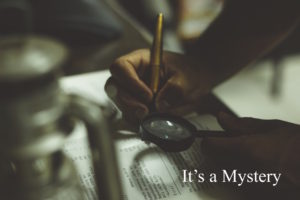 I met with my book group last week and we discussed The Dry by Jane Harper. I think most of us liked the book. I found a few things that I thought were left unexplained but overall this is a great mystery. I also just found out that this is now the first of what is going to turn into a series so I'm excited about that.
We also have four books lined up for the next few months but for May we'll be reading Thin Slice of Life and the author(s) might even make a guest appearance. Cool!
And, speaking of more mysteries I can't keep up with all the new series out there but I'm trying. These are the latest ones that have ended up on my radar:
Shadows on the Lake by Giovanni Cocco. A new mystery series set in Lake Como and featuring the captivating Inspector Stefania Valenti.
The Devil Crept In by Ania Ahlborn. A novel in which a small-town boy investigates the mysterious disappearance of his cousin and uncovers a terrifying secret kept hidden for years.
Black Water Lilies by Michael Bussi. Giverny, France. During the day, the town is the home of the famous artist Claude Monet and the gardens where he painted his Water Lilies. But once the tourists have gone, there is a darker side to the peaceful French village.
The Dinosaur Feather by S.J. Gazan. A Scandinavian thriller set in a university campus.
Now if mysteries aren't necessarily your thing and/or you prefer to watch them. I recommend Kommissarie Winter. We just started watching this series over the weekend. Based on Ake Edwardson crime novels, this series is set in Gothenburg and features Chief Inspector Erik Winter. Once we finish the episodes we'll move on to Bosch season 3. Looking forward to it too.
Anyway, what about you? Are you reading and/or watching any good mysteries?