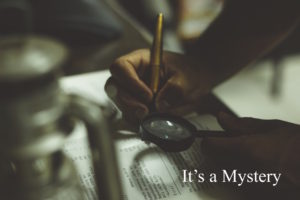 Last week I was supposed to have a conference call with my mystery book group to discuss The Far Empty by J. Todd Scott but unfortunately I could not get into the book and so I missed the meeting.
I'm very hopeful about our next book group discussion as we'll be discussing A Study in Scarlet Women by Sherry Thomas and that book I've heard lots of good things about so I'm excited to read it.
But as we're on the topic of mysteries, I thought I'd share some of the mysteries I've recently been hearing about which I've added to my TBR list:
The Ancestor by Danielle Trussoni. Description: a bewitching gothic novel of suspense that plunges readers into a world of dark family secrets, the mysteries of human genetics, and the burden of family inheritance. It feels like a fairy tale when Alberta "Bert" Monte receives a letter addressed to "Countess Alberta Montebianco" at her Hudson Valley, New York, home that claims she's inherited a noble title, money, and a castle in Italy. While Bert is more than a little skeptical, the mystery of her aristocratic family's past, and the chance to escape her stressful life for a luxury holiday in Italy, is too good to pass up.
A Good Man by Ani Katz. Description: Thomas Martin was a devoted family man who had all the trappings of an enviable life: a beautiful wife and daughter, a well-appointed home on Long Island's north shore, a job at a prestigious Manhattan advertising firm. He was also a devoted son and brother, shielding the women in his orbit from the everyday brutalities of the world. But what happens when Thomas's fragile ego is rocked? After committing a horrific deed — that he can never undo — Thomas grapples with his sense of self.
The Devil Aspect by Craig Russell. Description: Czechoslovakia, 1935: Viktor Kosárek, a newly trained psychiatrist arrives at the infamous Hrad Orlu Asylum for the Criminally Insane. The facility is located in a medieval mountaintop castle surrounded by forests, on a site that is well known for concealing dark secrets going back many centuries. The asylum houses six inmates–the country's most treacherous killers. Meanwhile, in Prague, fear grips the city as a phantom serial killer emerges in the dark alleys. Police investigator Lukas Smolak, desperate to locate the culprit, turns to Viktor and the doctors at Hrad Orlu for their expertise with the psychotic criminal mind.
Let me know if you've read any of the books in this post and if you recommend them. You know I'm always on the lookout for a new mystery.