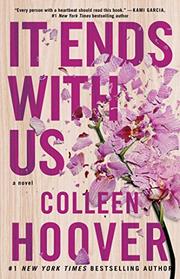 "As I sit here with one foot on either side of the ledge, looking down from the twelve stories above the streets of Boston, I can't help but think about suicide."
It Ends with Us
By Colleen Hoover
Source: Library copy
When Lily Bloom and Ryle Kincaid meet on the rooftop of a building they both have just had a hell of a day and want to be alone but they instantly feel a strong connection to one another. They each go their separate ways but chance brings them together again and this time they decide to see where this attraction will take them.
Lily is busy staring up a flower shop and Ryle is on track to be a prominent neurosurgeon. They initially may have had different goals about relationships, Ryle always thinking that he had no time for a serious relationship, but the more they are together, they realize they make a great team. Unfortunately, Ryle starts to show a side of him that Lily swore she would never tolerate given how her deceased father behaved towards her mom.
When Lily rediscovers her old journal and starts to read through it, she remembers what her life was like growing up with an abusive father and how she survived those difficult years thanks to Atlas Corrigan, the homeless teen she met and fell in love with.  When Atlas comes back into her life, Lily must decide if she is making the same excuses her mother made for her father or if she and Ryle really have a future.
The beginning of this novel made me think I was in for a breezy romance story with a beautiful young protagonist, a handsome doctor and all the perfect additions, like a cute shop and a great secondary cast of characters but the story takes a much more serious note when the issue of abuse is brought up and how it is handled. I especially found the way that Lily is shocked at herself when she makes excuses and tries to understand what has happened felt very genuine as I can imagine you never expect to be hurt by someone who says they love you. A very good read with lots of emotions and it really kept me hooked until the end on how everything would be resolved.