I keep thinking of checking in to tell you about books I've read, bought, etc. but life just seems to be flying by and the longer I keep away from the blog the harder it is to come back because I feel a bit overwhelmed by where to start. Anyway, I hope you've all been doing great and forgive me for the extended silence.
What's been keeping me from the blog? Work has been a bit busy and changes are happening so more than likely I'll be looking for a new job in the next few months. I have been trying to focus on my health a bit more after a doctor visit so more time at the gym and walking outdoors – which actually has led to me enjoying audiobooks a bit more! Now if I could just find the time to do yoga again.
When not reading I've been spending more time with my mom, in our garden and of course crafting. My Etsy shop is not closed but my focus isn't on it at the moment. Right now when I craft I just make stuff for me and that makes me happy.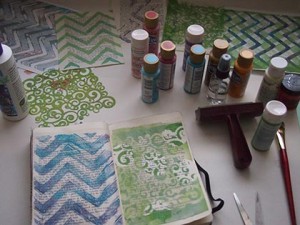 Look at what I'm into lately – monoprinting! I got a gelli plate and have been busy getting paint everywhere. I tell you, one of these days I will take a real printmaking class. This is just too much fun.
I celebrated a birthday recently and my dear husband got me some craft supplies. Lots of stuff he said he didn't know what it was for but figured I would and he was right. What a good husband. So more crafting adventures to come.
Anyway, that's a quick recap of life at Casa Bookgirl. My posting will more than likely be a bit spotty in the next couple of months as we have vacation coming up, family visiting, etc. but I will try to pop in. I actually have a new stack of books I need to tell you about so hopefully I can get another post done soon.
Anyway, I hope all is well with you all and hope you've been reading lots of great books!