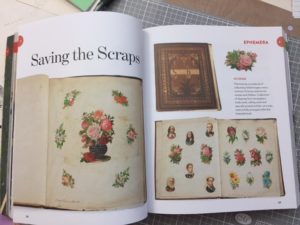 I picked up a library book recently that is just a visual feast. Botanica, published by Uppercase magazine is an encyclopedia of inspiration. It is a look at how artists, illustrators, photographers and other creatives use flowers as their subject matter. Whether it's a still life photo or the base for a silkscreen print, the arrangements are used in a variety of creative ways and to evoke different thoughts or feelings in the viewer.
I love floral motifs and often use them in my journal covers. When I go paper shopping whether it's scrapbook papers or Italian Florentine paper, if there are florals then those are probably the ones I'll gravitate towards first.
I haven't gone through the whole book yet but I am enjoying the artists' bios, and a peek at their studios and/or creative process. I think this is one book I'd love to add to my book collection so I could go back to it time and again.
Part of this collection also has books on illustrations, typewriters, and a bunch of other fascinating subjects. I'm most excited about their upcoming release which will be a compendium on ephemera! Oh my, I need that I am sure.
How about you, have you picked up a book that's inspired you lately? It could be on any subject!