It's been almost a month since I spent some time bookbinding. The last couple of weeks of December I was busy getting orders out and then with the holidays upon us I decided it would be best to clean up my craft table, organize my supplies but leave everything prepared until the new year.
So as you can imagine, I've been itching to get back to all of my projects in progress and with my recent visit to Dallas to see my mom, I couldn't pass up an afternoon at the Craft Guild.
I worked on a cloth covered book which will also have a closure. For the cloth I've used some upholstery fabric and I'm using some wool thread for the outside stitching. Here's what it looks like so far although right now that button you see on there isn't sewn on yet and I'm planning to cover a button with similar cloth: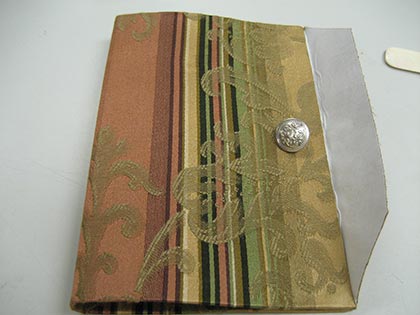 Here's a picture of the spine. I know it's hard to tell but the black, wool thread will be sewn in a way that it will look like a chain stitch on the outside.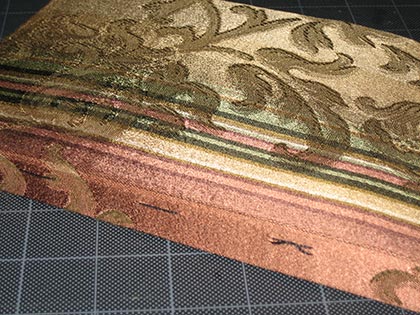 I hope I can finish this on my own but if not I'll take it back with me to the Craft Guild next time I go up to Dallas.
This weekend I'm looking forward to playing in the studio – lots. I'm also looking forward to some serious blog hopping. Not having internet at my mom's really put a cramp in my internet addiction. Ha. Anyway, have a great weekend and more book talk soon.