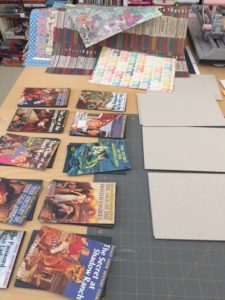 I hope you all had a great weekend. It was a lovely weekend with lots of sun here although according to the weather reports we'll be seeing some very cold weather soon. I guess I don't mind as that means I can spend more time in the studio without being distracted by going out to do things.
This weekend I was in the middle of bookbinding. I've had books in process for months so it was time to finish some up and start planning the next ones. So aside from my little coptic bound postcard journals, I'll have more sketchbooks and some new journal types. It's so much fun to create.
As my husband was helping me take pictures of some of the finished books so I can post on my Etsy shop, he found some old calligraphy work he doesn't need any more and gave those sheets to me. I'm so excited. I can incorporate some of the pieces into the "junk journals" I'm making so I can't wait!
Of course as I'm planning my next journals that means a lot of time going through scrapbook papers, Italian decorative paper, marbled paper, and other beautiful papers that I've accumulated over the years. I'm really drowning in paper over here so I guess I better get busy making more books right? haha.
Anyway, that's the scoop from over here. I have got to tell you about some of my current reads soon. I'm in the middle of some good books. How about you? What have you been up to?