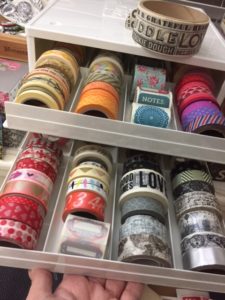 The weather was perfect this weekend for just staying indoors and tackling some projects. It wasn't too cold but gray, foggy and sometimes rainy. So I decided to finally get my studio in order. Throughout the past year I've organized here and there but I think a lot of times that just meant clearing off my craft tables and not really doing a deep purge.
A couple of weeks ago I decided enough of the chaos.  I can't find supplies, I forget about crafty items I've bought, etc. So I've been making some changes and organizing. To that end, I bought this great washi tape organizer. This organizer holds up to 160 washi tapes. I joked with my husband that I still have the entire bottom tray free so that means I need to buy more. Haha…
I've filed away my stencils and stickers. Now I need to put away papers, and I also want to get rid of magazines that I don't need anymore. Oh so much more to do. I don't think I'll be done with this project for a while but at least I really do feel like I'm making progress even if my studio/library is a bit of mess right now.
Aside from that this weekend I've made more progress in The Woman Who Walked in Sunshine but I've been tempted by the latest issue of World Literature Today which arrived in my mailbox this weekend. What have you been reading today?