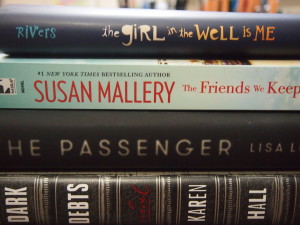 I have a few new books to tell you about that recently landed in my mailbox. Not a big stack but I'm quite interested in all of these.
First up is The Friends We Keep by Susan Mallery. The story is about three protagonists and their challenges with marriage, motherhood and life in general. I know some of you really enjoy Mallery's books and I've had this author on my radar for a while so I was excited to get this book.
The Girl In the Well Is Me by Karen Rivers. Kammie fell into a well during a club's initiation rite and now she doesn't know if she's going to be rescued. This book is targeted for young readers and while I haven't been reading a lot of YA, the title really caught my attention and I think this one has a lot of potential.
The Passenger by Lisa Lutz. The story starts with a dead husband, lying at the bottom of the stairs. His wife tells the readers she didn't do it. I have seen this one mentioned on a lot of blogs and newsletters and I was very excited to get a copy. Sounds like a good thriller right?
Dark Debts by Karen Hall. From the publisher, Hall has masterfully combined southern gothic, romantic comedy, and mystery in a wildly original theological thriller that has become a cult favorite since being published 20 years ago. I don't recall hearing about this book before but I'm definitely intrigued.
The other item I received was a catalog for Zest Books and while Zest features books for Young Adults there were certainly several books in the catalog that I think sound really good and will have to put on my radar. Some of the titles that I would like to check out are: Plotted by Andrew DeGraff, Unslut by Emily Lindin, Prison Island by Colleen Frakes and Zoo Station by Christiane F.
Ok, I think I have enough reading material here to keep me happy this weekend. I hope you all have a great weekend. Anyone have any big plans? Me, I plan to catch up on my blog reading. I don't know what happened this week but I'm really behind so looking forward to doing that.