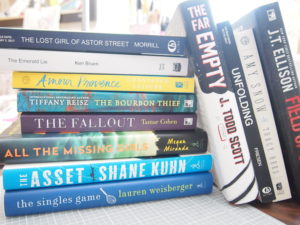 While I was traveling last month a lot of new books showed up in my mailbox. Some of these I had already heard about and some are nice new discoveries. There are a couple that are at the very top of my must read list and I would love to hear what you think.
The Lost Girl of Astor Street by Stephanie Morrill. A YA mystery set during the 1920s Chicago.
The Emerald Lie by Ken Bruen. The latest Jack Taylor novel.
Amour Provence by Constance Leisure. A lush, evocative, debut novel set in Provence about the people who grow up and live and remain in two tiny neighboring villages—from the Nazi occupation to the present day—in particular, one man and one woman who have yet to find love.
The Bourbon Thief by Tiffany Reisz. A 150-year-old mystery involving a million-dollar bottle of bourbon.
The Fallout by Tamar Cohen. The Fallout exposes the volatile nature of divorce—and the new lovers, obsessions and broken relationships that are left in its wake.
All the Missing Girls by Megan Miranda. A thriller about the disappearances of two young women – a decade apart – told in reverse.
The Asset by Shane Kuhn. A private airport security contractor becomes a counterterrorism operative and must stop an attack that will destabilize the US and cause global chaos.
The Singles Games by Lauren Weisberger. A dishy tell-all about a beautiful tennis prodigy who, after changing coaches, suddenly makes headlines on and off the court.
The Far Empty by J. Todd Scott. In this gritty crime debut set in the stark Texas borderlands, an unearthed skeleton will throw a small town into violent turmoil.
Unfolding by Jonathan Friesen. Jonah wishes he could get the girl, but he's an outcast and she's the most perfect girl he knows. And their futures seemed destined to fork apart.
Amy Snow by Tracy Rees. This debut novel follows an orphan whose late, beloved best friend bequeaths her a treasure hunt that leads her all over Victorian England and finally to the one secret her friend never shared.
Field of Graves by J.T. Ellison. All of Nashville is on edge with a serial killer on the loose. A madman is trying to create his own end-of-days apocalypse and the cops trying to catch him are almost as damaged as the killer.
That's a lot of books! I wish I could jump in and start one of these over the weekend but I have a friend in town this weekend and I need to finish a book for my book group next week. Hope you all have a wonderful weekend.