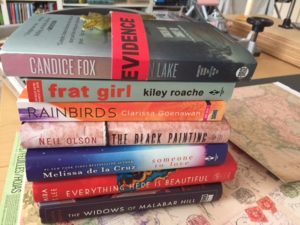 The last couple of weeks brought a few new advance review copies to my mailbox and I'm finally getting around to talking about those titles. Before we get into them, do you see the crocodile on the topmost book? I know that might be hard to see but what great marketing. I'm planning to use the "Evidence" tape in one of my art journals. Anyway, let's get into the books:
Crimson Lake by Candice Fox. Set in Queensland, Australia, this is a dark thriller about a girl gone missing and the eccentric private investigator looking for her. I haven't read many mysteries set in Australia so I'm excited about this one.
Frat Girl by Kiley Roache. A young woman decides to infiltrate a frat house to expose their behavior but of course complications soon come up like maybe falling in love? I didn't read any YA last year so this might be a fun book.
Rainbirds by Clarissa Goenawan. Set in an imagined town outside Tokyo, this debut novel follows a young man's path to self-discovery in the wake of his sister's murder. Gorgeous book cover.
The Black Painting by Neil Olson. An old-money East Coast family faces the suspicious death of its patriarch and the unsolved theft of a Goya painting rumored to be cursed. I love books with a art as a backdrop and I know Jenclair recently gave this one a thumbs up so I'm excited to have this book.
Someone to Love by Melissa de la Cruz. Another YA book this one dealing with a teen who is battling an eating disorder, self-doubt and having to live up to her family's expectations.
Everything Here Is Beautiful by Mira T. Lee. Told in alternating points of view, this is the story of a young woman's quest to find fulfillment and a life unconstrained by her illness. I think I've read some very positive reviews of this one already.
The Widows of Malabar Hill by Sujata Massey. 1920s India: Perveen Mistry, Bombay's first female lawyer, is investigating a suspicious will on behalf of three Muslim widows living in full purdah when the case takes a turn toward the murderous. I'm very excited about this one because I was a huge fan of Massey's Rei Shimura series so I'm hoping this one will be just as great.
So I know what I'll be doing this weekend, hopefully opening up one of these. What about you? Got some bookish plans?