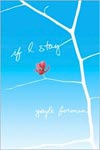 "7:00 A.M.  Everyone thinks it was because of the snow. And in a way, I suppose that's true."
If I Stay by Gayle Forman
When seventeen-year-old Mia wakes up on a wintery day to snow falling she knows this can only mean one thing. No classes. Her little brother is overjoyed as can be expected, her father who is a teacher also has the day off and suddenly her family decides to make a day of it and go for a ride.
No one thinks of any consequences. Mia's mother is happy to spend the day with her family instead of work, the only argument is which music to decide on for the road trip, Mia is a cellist so she wants the classical music station. NPR, SpongeBob, everyone gets a turn to listen and no one expects what happens next.
A four-ton pick up truck going sixty on the slick roads loses control and crashes into Mia's family. The car is totaled and all Mia can distinctly make out is the radio but why is she outside of the car? As she starts to comprehend what has happened she realizes that her former life has been shattered. Her parents are dead and her little brother is hanging on to life. She realizes that her body is also hanging on to life.
But what kind of life will she have without her parents? As Mia wanders the halls in the hospital while her body is being cared for by the doctors, she takes the reader through her life. How her parents met, how she developed her love of music and how she fell in love with Adam, a musician in a rock band.
At the hospital Mia sees her grandparents, friends and Adam react to the tragedy. She realizes they are hurting just as much as she is and she listens when it is suggested that it is up to her to stay on earth. While I found Mia a bit distant at times and not really as emotional as I would have imagined her to be, which I assume was to show us that she was in a state of limbo, it was a moment her grandfather has at her hospital bedside that just made my tears flow.
Even though I thought it was a bit predictable in the ending I still really liked this book. I thought Mia's character was very believable as she seemed to straddle that line between being almost an adult and still being young and full of insecurities.
Source: Library copy