Hello Blog Friends – I just wanted to say thank you so much for all of the good wishes for my cousin. He is still in the hospital but is doing better. Still not sure when he'll get to go home but hopefully that date is getting closer.
I continue to be busy with work and honestly I don't see that changing much for a long while but I'm still also doing my yoga, doing my crafting and of course relaxing with a lot of books, more on that in a minute.
But, speaking of my crafting, here are my first pair of earrings! Well, you only get to see one for now.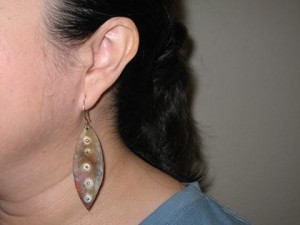 They turned out a bit longer than I had planned on but I loved working on the copper and torching it to give it that rusted, old look. I'm still a bit in awe that I used a torch! haha… I still have a few more classes and my next project is another set of earrings but I'll also be using beads for those. Anyway, lots of fun what with all that hammering and sawing to ease away a stressful day.
In book news, I finished The World We Found by Thrity Umrigar the other day. Not my favorite book of hers but very readable. I think what bugged me a bit was the ending that I didn't have the closure I was expecting. Now I'm reading a romantic suspense novel which I've just started so we'll see how that goes.
Hope you are all doing well and I'll try not to be such a stranger in blogland.