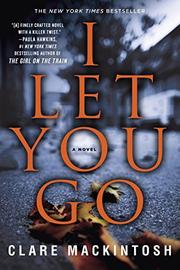 "Headlights glint on wet tarmac, the dazzle blinding them every few seconds. Waiting for a break in the traffic, they duck across the busy road, and she tightens her grip on the small hand inside the soft woolen glove, so has to run to keep up."
I Let You Go
By Clare Mackintosh
Source: Advance review copy
The little boy lets go of his mother's hand in an instant everything is completely altered. How could the driver not stop to help and how can anyone live with the knowledge that this precious five year old is now gone.
Jenna's life is forever altered and she moves away from London. She has to get away from all the memories and without a real destination to go to she somehow ends up in a small coastal village. There in a dilapidated cottage with a barely working door lock and sparse furniture or belongings she starts to recreate her life.
In London for the detectives on the case of the hit and run, it's been months of nobody saw anything but how can a mother disappear. Perhaps as the anniversary of the tragedy is approaching they can once again reach out to the community and try to get a lead.
Jenna has slowly been rebuilding her life and even has made some friends and gotten close to a special person but soon she's going to have to face the past she left behind.
This was a gripping read with a fantastic plot twist I didn't see coming. I've read a couple of her books now and will be eagerly looking for the another of her books to add to my nightstand.