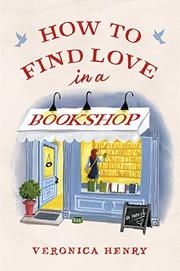 "He looked around the bare walls again. The smell of damp was inescapable, and damp would be a disaster. The staircase rising to the mezzanine was rotten, so he wasn't allowed up it. The two bay windows on either side of the front door flooded the shop with pearlescent light, highlighting the golden oak of the floorboards and the ornate plasterwork on the ceiling. The dust made it feel otherworldly: a ghost shop, waiting, waiting for something to happen, a transformation, a renovation, a renaissance."
How to Find Love in a Bookshop
By Veronica Henry
Emilia returns to her hometown to say goodbye to her father, Julius Nightingale. She cannot imagine her life without him and Nightingale Books without the comforting presence of her father but he's ill and doesn't have much time. The only thing she assures him is that she will be there to continue to bring joy to the village's residents.
Nightingale Books is the bookshop every bibliophile dreams about. A bit of disarray, lots of books, and an owner who truly cares about helping one find the right book, but the shop is not in the best of shape. Julius was most concerned with bringing up his daughter on his own and being the owner of something more than just a shop but creating an atmosphere that encouraged readers to come in and browse. Buying was kind of optional.
This means that when Julius passes away and Emilia starts to immerse herself in the business of running the shop she realizes that she needs a lot of help to keep the business afloat. She's got bills to pay, she needs to find more shoppers and how does she not fall into a business trap.
Emilia had been gone for quite a while from Peasebrook but she realizes that her father had truly built a community and she is willing to make some changes to the shop but never losing the essence of what her father built. Along the way she reconnects with many of the town residents and maybe even finds that she doesn't have to leave home to find what she's always been looking for.
A charming story with a nice cast of characters. I think if you are in need of a comfort read then this is the book for you. I just wish I could find my own Nightingale books in my town.
Source: Advance review copy