I've said it before, I'm a moody reader. So I guess about half of the time, I choose a book depending on what kind of mood I'm in. The rest of the time it just sort of depends on timing, do I need to read a book for book group? Or for a book tour? Etc.
And, sometimes there are odd little moments that lead me to choose a book. Yesterday was one of those days. I was sifting through the shelves trying to find my next read. I didn't have a particular one in mind so I was just moving books around (yes, I've got books double lined in the bookcase so I had to see what was hiding in the back!) and in all that moving around and such one book fell off but I was able to grab it before it hit the floor.
I grabbed it by the pages and it opened up to this page:
"The woman in white stands on the terrace as still as any of the statues. Like an apparition, I think, feeling suddenly cold."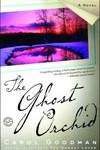 Given that I've been talking about The Woman in White recently (the Wilkie Collins book), I just thought this book was meant to be read next then. So, that's how I chose my latest read, The Ghost Orchid by Carol Goodman. So far I like it a lot but then again I've liked all of her books that I've read.
This one is a tale about writers, seances, ghosts and dark family secrets. I've already met characters that seem to be hiding some truths, some that are mean and some that seem to be slightly mad. Should be a fun read.
How about you, how did you choose your current read?