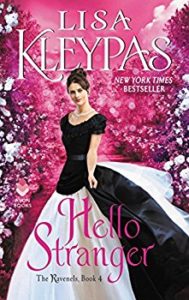 "Carrying her leather doctor's bag in her right hand and a hickory cane with the other, Garrett continued to walk at a brisk pace. Her gaze took in every detail of the environment. The East London parish of Clerkenwell was not a place to be careless."
Hello Stranger
By Lisa Kleypas
Published: February 2018
Source: Advance review copy
If you've been reading Lisa Kleypas series of The Ravenels, then you'll have encountered Dr. Garrett Gibson before as she was introduced in previous books. Now it's time to tell the story of the only female doctor in London. She has a busy practice, friends and family but perhaps she should start thinking about her heart.
After she receives help in fending off some attackers by Ethan Ransom one evening on her way, she accepts Ethan's proposal to teach her some self defense tricks. Ethan, who's been keeping an eye on the lovely doctor for quite some time, only put him at risk for falling in love.
For Garrett everything seems quite clear, why not enjoy Ethan's company but Ethan doesn't want to bring Garrett to close into his life for putting her in danger after all he is a spy and his current assignment will have some serious repercussions but fate keeps putting these two together time and again.
I've enjoyed a lot of Lisa Kleypas' books before and while I liked the characters in this one, it wasn't my favorite. I found Ethan's story a bit convoluted, or his work and the political intrigue, so that sometimes took away from my enjoyment. I have not read any of the others in this series but I will be looking for them as we got glimpses of some of the other "Ravenel" characters and I would love to know their stories.