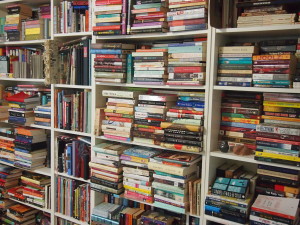 I wish I could say I made a dent in these shelves pictured on the left but no such luck. Still January was a really good reading month. I was able to mix it up a bit and read some poetry, fiction and of course my comfort reads, mysteries.
I read five books in January and given how my reading was going the last few months this is quite an improvement.
I haven't done reviews for all of them but the books I read were: Death in Pont-Aven by Jean-Luc Bannalec; Florence Gordon by Brian Morton; Raven Black by Ann Cleeves; Joy Street by Laura Foley and A Barricade in Hell by Jaime Lee Moyer.
With regards to my reading challenges I've also made some progress on my What's In A Name reading challenge and am currently reading one book that will be perfect for the Vintage Mystery Bingo challenge.
So all in all I'm happy with my reading. I'm still struggling to find time to blog, read and well, you guys can relate to all of that but most of all I'm trying to remember to not get overwhelmed. Especially when it comes to the reading and blogging as these are supposed to be the good, fun parts of the day right?
Alright, I hope you also had a wonderful reading month. What was your favorite read?