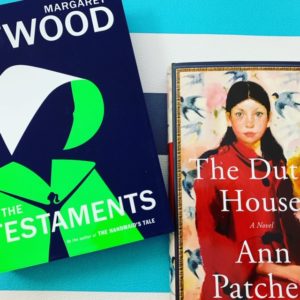 I've been having such a fun time crafting and relaxing these past couple of days that I can tell you, as much as I do love my job, I would love an extra day off. Well, the Christmas holidays will be here soon enough right?
So while I did not go out and brave the stores for the Black Friday sales, I did do a bit of retail therapy and bought a couple of books and some crafty stuff. I got The Testaments by Margaret Atwood and The Dutch House by Ann Patchett. Of course both of those books have been mentioned everywhere lately so when I saw a good deal I had to snagged up these two.
I wish I could say I also did a lot of reading but I just didn't get to my books. I spent a lot of time with my mom and when I wasn't hanging out with my mom, my husband and I ware catching up on some of our crime shows. We did go for a nature walk at one of the trails near our home so that was really nice.
I feel very accomplished when it comes to bookbinding because I finished nine journals and have made progress with some others. I've also been going back and forth on ideas for some new journals and that's always fun. Hopefully I'll find some time during the week for some design work on those.
What about you? What were you up to this weekend and did you end up making any book purchases?