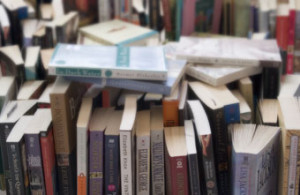 One month left to finish up some reading challenges and meet some reading goals and I can already tell that's not going to happen. And, that's ok. I didn't do so well with all of my reading intentions for November like Nonfiction November, Margaret Atwood reading month or German literature month but I still enjoyed reading all the blog posts about and at least celebrating from the sidelines.
What's my plan for December? Well hopefully getting back on track with my reading. This weekend I didn't do a lot of book reading because I also have a huge stack of magazines that I'm trying to whittle down. Once I finish those I take to the library to put in the magazine exchange bin. I promise I'm not picking up anything new!
I'm probably going to make a trip to the library this week to pick up my mystery book group book but I'll try to stay away from borrowing too many books. Especially since I just downloaded 20 (yes 20!) books from NetGalley. I don't know what I was thinking but it's just hard to resist those books.
So that's about it around here. What about you, any big plans to finish off your reading year?