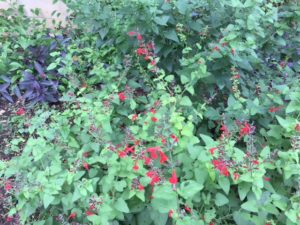 Hello Friends! I'm sorry I sort of disappeared there but I had family in town last week and we had a great time catching up but it also meant a lot of things have been put on the back burner. So there's going to be a lot of chores to catch up with and that sort of thing over the next week but for now I'm enjoying the cooler temperatures and the arrival of autumn.
We've had lots of rain over the past week but our garden is looking wonderful. Isn't our Scarlet Sage lovely?
So today to relax after all the running around last week we decided to go to the bookstore. Barnes & Noble was packed but we found a table and enjoyed browsing through some magazines. We got Forks Over Knives. Have you checked this one out? I saw some great recipes for hummus and other yummy things. I can't wait for my husband to make some of these! I bought Pages magazine so I'll enjoy some crafty inspiration from this one.
This week is also Banned Books Awareness Week! Are you going to read any challenged books? Here is a list of 10 Banned Books and in case you are in the mood for poetry, here are also some poems/poets who've often been challenged. I still find it so hard to believe that anyone would have issue with any of these books!
Alright friends, that's it for now. I hope you have a fabulous week ahead. Again, so sorry for not visiting your blogs and replying to comments. I will try to get back on track here soon.