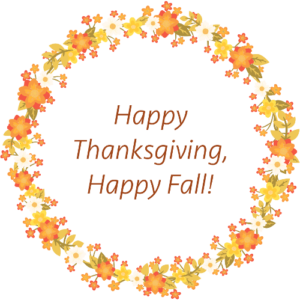 Hello Friends – Just stopping by to wish everyone a Happy Thanksgiving and if you don't celebrate the holiday, then happy weekend!
We won't be having a big celebration but I'm sure we'll try to go out for a nice walk and enjoy watching some movies and just relaxing. I think this weekend will be one for trying out some new recipes too.
I did make a pit stop at the new Central Library and it was fun. Gotta stock up on books while the library is closed right? Ha. I'll have to tell you more about that in another post. For now I'm trying to catch up on emails. Oh my goodness how many emails can one get about Black Friday & Cyber Monday sales? I admit I'm a bit tempted by those from Barnes & Noble and some of my favorite crafty sites.
I hope you all enjoy some time with your families and friends. Wishing all of you a wonderful weekend and more book talk soon!