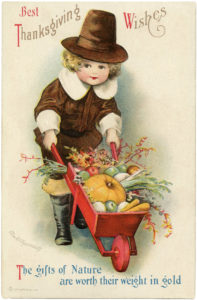 Are you ready for the Thanksgiving holiday? We don't have a big celebration as none of our family is in town but I'm certainly thankful for the extra days off to spend time with my husband and my mom.
I'm looking forward to adventures in crafting and reading this weekend and I'm sure I'll head out to the bookstore at some point. I've also found out about a trail that sounds really wonderful but I think we may have some rain this weekend. If not, I would love to spend some time in nature. I really wanted to do much more of that this year and just have not made it a point to do so.
Anyway, even if you don't celebrate the holiday I wish you a Happy Thanksgiving and a happy weekend! I'm thankful for you for spending time with me and for your friendship.
I'll be back soon with more bookish talk!