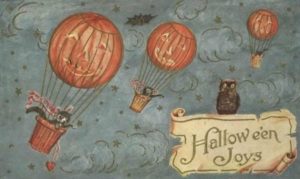 Happy Halloween! It's been a super busy month but I'm so happy to say that work has calmed down a bit and our boil water notice was finally lifted on Sunday evening. It definitely makes you grateful for having access to water and how lucky we are that we only "suffered" for a week whereas so many people around the world struggle with this every single day.
So this month I didn't get a lot of reading but the books I did read, I liked a lot. I read: Still Waters by Viveca Sten, The Temptation of Forgiveness by Donna Leon and Disappearance at Devil's Rock by Paul Tremblay.
I'm sad to report that I did not complete my R.I.P. reading challenge. I had set out to read four spooky books but only read two and those were The House Next Door by Anne Rivers Siddons and Disappearance at Devil's Rock. Wow, both were really good and just that right amount of creepy for the season.
Next month I'm looking forward to participating in Nonfiction November and Margaret Atwood reading month (a post on this next). I've slacked off on nonfiction reading after a good start earlier in the year and it's been years since I've read anything by Atwood.
Hope you get lots of treats this Halloween! Let me know how your month was and what you are looking forward to in November.