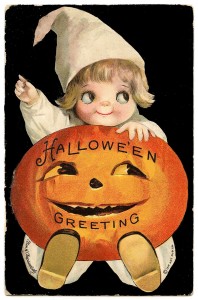 I hope you are ready for the trick-or-treaters. We are not so more than likely we will have the lights out and instead watch some scary movies. I do love to see little ones in costume and get in the spirit but I think this year I'm going to take it easy.
So I wanted to drop in and wrap up my R.I.P. Reading challenge. My goal was two read two books and I did. Yay. The first one was Tricks by Ed Mccain and just last night I finished No One Gets Out Alive by Adam Neville.
Still haven't gotten around to doing quick reviews but both were perfect for the season. Thanks again to the Estella Society and Carl V. for bringing us this great reading challenge.
I'm actually still in the mood for more spooky reads so I'll see what if I can squeeze in another book or at least a short story. But speaking of spooky reads, I thought I'd mention a few of my favorites in case you are still looking for some suggestions:
The Monkey's Paw by W.W. Jacobs. You can read the entire short story here.
Sleep, Pale Sister by Joanne Harris
The Woman In Black by Susan Hill
Dracula by Bram Stoker
The Little Stranger by Sarah Waters
Heart-Shaped Box by Joe Hill
Hope you have a wonderful weekend!