Are you ready for the weekend? I definitely am. No major plans other than reading, relaxing and home stuff. So I thought I'd share some things that are bringing me joy lately:
Happinez the magazine. Just discovered this monthly publication and I loved the photography and variety of articles. A very soothing read.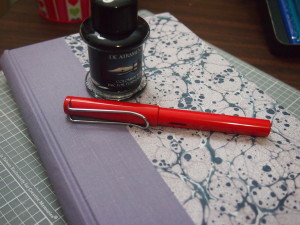 A new pen. I also bought some new ink which I was excited to show you until I discovered they sent me the wrong ink. I'm sure I can easily exchange it and can't wait to show you the one I wanted. I only use black ink in my text-only journal but I have been thinking of branching out. Oh and I now have five Lamy pens. I'm seriously addicted to these.
Chocolate Daisies and Rock Roses. We planted a few this Spring and have finally seen some blooms. They are so pretty and just make my day.
Hearing the news that next year there will be non-stop flights to Germany from Austin! Of course I wonder what the fares and times are like. Well, there's plenty of time before our next trip.
Finally, wearing a pair of red heels. I do love these vintage inspired shoes.
Have a wonderful weekend you guys and more bookish talk soon.