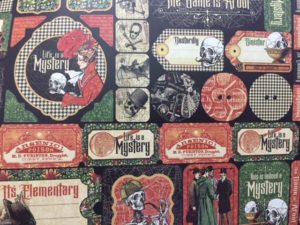 Happy Friday everyone! I have a long list of "to-dos" so I thought I'd do a quick post of some things that are bringing me joy lately.
Warm, soft and comfy socks. I found these super soft pair at Kohl's and they are perfect to wear with my booties.
Also while we were going through papers and re-arranging some items around the house last weekend I found my large cutting mat. I love this thing and can't believe it was stored away with some other stuff. I have several cutting mats but this one is great as it covers quite a bit of space.
Stickers! I found these super cute mystery themed stickers and I can't wait to start using them in my reading journal, planner, whatever. Aren't they cute?
Speaking of crafting things, I know I recently mentioned drowning in paper but that didn't stop me from buying several of the Michael's Hot Buys paper packs and I also had a coupon so, yay for great bargains. Can't wait to make more new journals.
Last but certainly not least, looking forward to breakfast at a favorite place with a dear friend this weekend.
I hope you have a fantastic weekend. Let me know what you are up to!