I hope you have all enjoyed some good times with your family and friends this Holiday! We've been keeping things low-key here at Casa Bookgirl. Just enjoying time off, spending time together and relaxing. And, of course enjoying the goodies that I got this Christmas: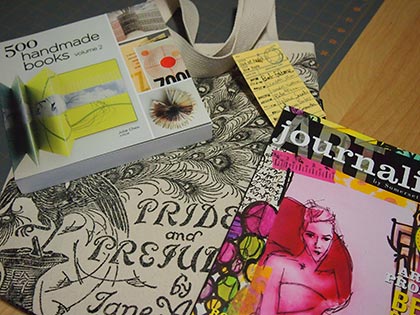 A dear friend of mine gave me an adorable Pride & Prejudice tote from Out of Print. I can't wait to take it with me on my next library outing. My husband totally surprised me with a subscription to Art Journaling magazine. I love that publication! And, if that wasn't enough he also gave me 500 Handmade Books Vol. 2. I already have the first volume so this is a wonderful addition to my library. I have quite the shelf on books on bookbinding.
So I'd say it was a very nice Christmas haul!
I still have not put together my year end list of favorites but will be doing so very soon. I've actually had a bit of a hard time settling down with a book lately but finally found one that is really capturing my attention: The Absent One by Jussi Adler-Olsen. I read the first book a couple of years ago and it's great to revisit with Copenhagen Detective Carl Mørck.
I also wanted to put together some mini reviews but I get the feeling those are going to be postponed for a while longer. Anyway, more bookish talk soon!