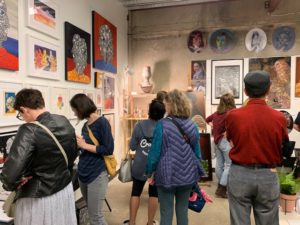 Hope you all had a happy weekend. We went to EAST event on Saturday and had a wonderful time. I think I've missed this even the last couple of years due to conflicts in schedule but you may have heard me talk about it before because it's one of my most favorite events around town.
Now in it's 18th year, the East Austin Studio Tour features more than 400 studios that are free and open to the public over the course of two weekends. It is so much fun! Honestly I could have gone back again today.
I loved that there were installations or art work that was interactive. So if you had time or wanted to, you can take part in the art. We also saw a studio where some students were drawing and painting. In one studio a weaver was working on a piece so that looked amazing.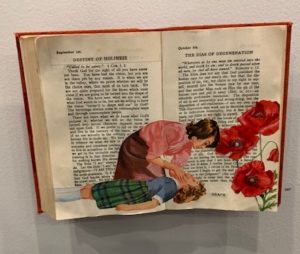 I love the variety of art. We saw embroidery, prints, pottery, photography, watercolors, you name it. Some of my favorite works were college works of course. I also found several pieced that had either books or references to books as part of the artwork.
Anyway, this was a ton of fun and I still dream about being part of this one day. Actually I was a bit involved with EAST several years ago when I sold my journals at one of the studios but I would love to actually have an open studio and share my love of bookbinding.
Speaking of bookbinding, I've been doing a bit of that this weekend and looking forward to doing a lot more crafting over the Thanksgiving weekend.
Now to catch up on some of my reading. I'm telling myself no new books until I can finish some with the exception of my mystery book group pick for December. Hope you have a great start of the week and more book talk soon.