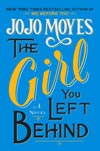 Hey friends – It's almost the weekend and it's time for some fun so how about a giveaway?
Last year one of my favorite books was Me Before You by Jojo Moyes. That book made me smile and cry and I just loved it. Now she has a new book coming out soon which I'm looking forward to and thanks to the publisher I have a copy to give away.
So first let me share from the publisher's site a bit about The Girl You Left Behind:
"France, 1916:  Artist Edouard Lefevre leaves his young wife, Sophie, to fight at the front. When their small town falls to the Germans in the midst of World War I, Edouard's portrait of Sophie draws the eye of the new Kommandant. As the officer's dangerous obsession deepens, Sophie will risk everything—her family, her reputation, and her life—to see her husband again. Almost a century later, Sophie's portrait is given to Liv Halston by her young husband shortly before his sudden death. A chance encounter reveals the painting's true worth, and a battle begins for who its legitimate owner is—putting Liv's belief in what is right to the ultimate test."
Doesn't this sound like a good read? If you would like to read this book just leave me a comment to be entered in the drawing and I'll draw a winner next Thursday (U.S. addresses only).
I hope you all have a wonderful weekend and have some great reads lined up. A new Half Price Books just opened nearby and it's my duty as Bookgirl to go check it out. I'll report back on the finds.