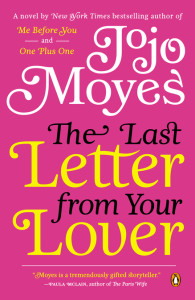 "She had now unearthed seven letters from their hiding-places around her house; seven letters that laid out before her the kind of love she had known, the kind of person she had become as a result of it. In those handwritten words, she saw herself reflected in myriad ways: impulsive, passionate, quick to temper and to forgive."
The Last Letter from your Lover
By Jojo Moyes
When Ellie Haworth goes to the newspaper archives in hope of finding material for her next piece little does she know how her life will change thanks to a short hand-written letter she finds. It's a beautiful love letter dated from 1960 and the only signature is a letter B.
As the story continues the narrative takes the reader to the other main character of the story. Jennifer Stirling is the perfect wife of a wealthy business man and her story begins as she's come out of the hospital after a terrible accident. Her memory is impaired but the one thing she still can't make sense out of is her feelings, or lack of, for her husband. Everyone tells her she's been through a lot and she just needs time until one day she finds a letter signed by B addressing her.
Who wrote her such heart-felt letters? And how could she have risked everything to be with a lover? As Jennifer tries to regain her memory and find B, she also has to deal with how others will see her. No longer a perfect wife and a woman not conforming to the standards of the day.
The two women, Ellie and Jennifer, may be from different times but both are longing for true love. There are missed connections and misunderstandings but this is about finding love that will withstand those things. While I didn't think this story packed the emotional punch that Me Before You did, I still enjoyed it very much and hope you'll give it a chance.
For those of you who haven't read I have a copy from the publisher to giveaway (U.S. address only please). Just leave me a comment and if you have a good love story to recommend I'd love to hear about it. I'll draw a winner by next Friday.
Oh and the other thing I forgot to mention is that this book goes towards two of my challenges. The Romance Reading challenge and the Postal Reading challenge. Love it. Happy weekend everyone!
Source: Advance review copy