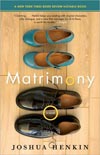 If you've had Matrimony on your radar here's a chance to enter my giveaway for a signed copy of the New York Times Notable book. Joshua Henkin has kindly offered to send a copy to one lucky winner anywhere in the world.
To enter, simply leave a comment on this post. I'll announce the winner on Friday, January 19th.
Now, if you want to read a little bit more about the book you can visit other book bloggers and see some of Josh's guest posts:
Books on the Brain
Planet Books
Musings of a Bookish Kitty
And, for some reviews on Matrimony check out what fellow book bloggers are saying:
The Literate Housewife
The 3 R's: Reading, 'Riting, and Randomness
She is Too Fond of Books
Age 30 – A Year of Books
Books and Cooks
Reading Room
Bookfoolery and Babble
A Reader's Journal
B&B Ex Libris
Hey Lady! Whatcha Readin'?
Shelf Life
The Boston Bibliophile
Trish's Reading Nook
Musings of a Bookish Kitty
You know you want a copy of this book. So, go ahead and enter and good luck!
P.S. You can also visit Josh's site to read his blog, get a reading group guide and find out all the scoop.