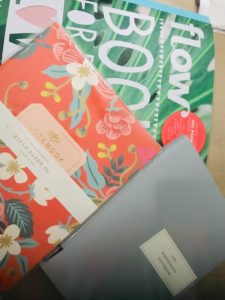 I hope you all had a wonderful weekend. I just realized I didn't tell you about some of the fun gifts I received over Christmas. My husband gave me the latest Flow Book For Paper Lovers. I love this chunky book. It is filled with pretty papers, stickers, postcards, pull outs, tags… It is so much fun to play with it. I've been collecting these yearly publications and I really enjoy them.
He also got me the Persephone Notebook. It has the same smooth, creamy paper as found in all of their books. I can't wait to use it. Persephone also sent along a bookmark and the Persephone Biannually publication so I'm sure I'll want more books for my collection.
Not pictured, is a beautiful Faber Castell fountain pen. I've really become addicted to fountain pens. You can't help but feel all fancy when you pull out your journal and pen to write.
My dear friend Christine sent me a gorgeous gift package from Box Fox. If you need to gift someone with a special gift, check out this company. My gift came in a gorgeous box and was packaged beautifully. Oh and there was also some chocolate – yum! Inside my box there were several goodies and these wonderful Rifle Paper notebooks and two Le Pens.
So lots of pens and paper for me this year which is very welcome.
Believe it or not, no books this year but that's ok, it's not like I don't have plenty of reading material. Speaking of reading material though, I will try to give you some quick reviews of a couple of books I finished around the holiday so watch for those soon. Alright now off to play with some paper.