I know every store under the sun has already published their gift guides but I always like to do my little part by promoting the handmade community. I've been buying and selling on Etsy for several years now and while Etsy has grown so much and has lost a bit of the focus of what it was when it began, it is still a good source for finding unique handmade crafts.
So I put together this little treasury of items I think are fun items that readers and writers would like. Some of these sellers I've purchased from before and some are new to me but I hope you'll enjoy: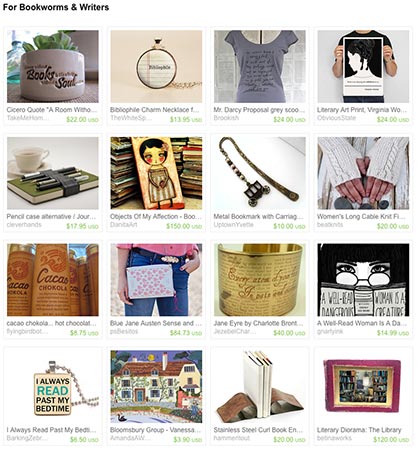 Oh and I also found this other great source for literary gifts – The Reader's Catalog. Have you checked them out? Lovely items.
So are you still doing some holiday shopping or are you done? I have barely started (as usual) so this weekend I hope to cross some names off my list. And, in case you didn't see my post on bookbinding recently, I've got a little sale going on at my shop. Just use coupon code "Happy2013" for a discount.
Have a great weekend everyone and more bookish talk soon!