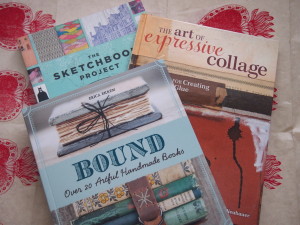 I hope you've all had a wonderful weekend. I go back to work on Monday after a week and a half break. Will I remember my computer password? Ha.
I admit I'm not prepared to go back to work. I would love just a bit more time to enjoy catching up on things. And, I would love to have more time to spend with my books I got for Christmas. No novels this year but I think this is a strong hint that I also need to reconnect with my crafty side this year. The books I received are:
The Sketchbook Project World Tour. Anyone who visited the site of the Sketchbook Project  and asked for a sketchbook was given one. The books traveled the world, filled up with creativity and returned back to be housed at the Brooklyn Art Library. This book is a sample of some of those sketchbooks. I have briefly glanced through this but can already tell it is one of those books to go back to time and again.
The Art of Expressive Collage: Techniques for Creating with Paper & Glue by Crystal Neubauer. Paper and glue – two of my favorite craft supplies. I believe this is a fairly new book so I'm excited to see what kind of fun I can find within the pages.
Bound: Over 20 Artful Handmade Books by Erica Ekrem. There are some lovely bookbinding projects in this book. Mainly books made with exposed spines, recycled materials and for the most part, basic stitching methods. I'm really looking forward to trying one of the projects in this book.
So what about you, did you get some books over the holidays?